This principle focuses on selecting finishes / materials, approving architectural drawings, and deciding bathroom, kitchen layouts etc for construction purposes.
Providing assistance to your Bathroom Remodeler for Hollywood Beach projects, Interiors by Michael J is your voice during a construction project. Working with your contractor or one of ours, we provide design and project management services, ensuring that your finished bathroom meets your wants and needs. Whether you are refreshing finishes or undergoing a full gut and reconfiguration our team is there with you from start to finish, providing design expertise from layout design to the minor details that finish off the space.
When planning your bathroom sanctuary, Interiors by Michael J offers both in home and virtual design consultations. Preparing selections to present to your bathroom remodeler, our Hollywood Beach design services include creating luxurious shower designs, distinctive fixtures including sinks, vanities, and faucets, cabinetry and storage, lighting, and more. Making the remodel process as hassle-free as possible, you can rely on our experience with remodels of all sizes, from primary baths to hallways bathrooms and powder rooms.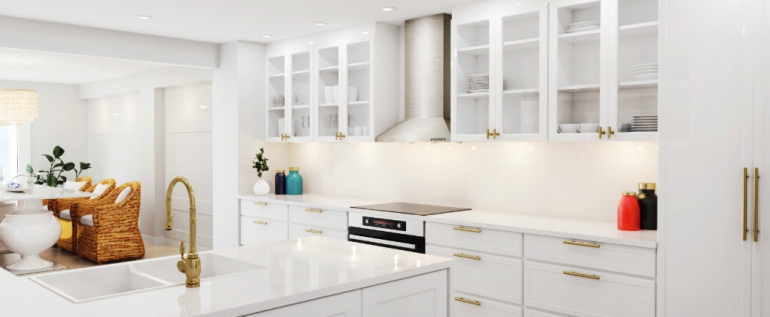 Working with your bathroom remodeler in Hollywood Beach, our services include selecting and ordering all flooring, materials, fixtures, lighting, and accessories, whereas the contractor is responsible for permit approval. Using samples and drawings provided by the contractor, we review and approve the final design. Offering free consultations for your bathroom and home design, Interiors by Michael J, brings over 10 years of experience and an array of industry connections to make your removal a smooth process.
Interiors by Michael J. is determined to stay with their clients as a source of confidence and organization throughout this process. Our ultimate goal is to guide you through the completion of your home while achieving the aesthetic you and your family are engaged in and looking for in your space. IMBJ designs for a variety of styles and aesthetics by applying the same design, business and ethics principles to each and every client across the board.
3-D Modeling & Space Planning
Let us create visual representations of work that is to be made and/or performed, before even getting started.